In fourth year of secondary school in Rotterdam, we were asked to write a French essay on the subject "voudriez-vous vous habiter à l'étranger?" — "would you live abroad?" I remember it well, rambling on about how I wouldn't mind spending some time travelling the world, but concluding that I would never wish to move away from Holland permanently.
Famous last words.
It's now almost 25 years since I came to live and work in Dublin — and so I have spent more than half my life away from the home of my French essay. Of course I'm still a blow-in, although it appears that being Dutch is not half as incriminating as being from, God forbid, Cork or some other culchie place.
Ireland has been good to me, even if the romantic idea of playing the pipes by the turf fire in a cottage somewhere in county Clare is not something that has become a regular part of my life here. I've always played it safe, and moving to Ireland was something I did only after I secured a job so I would not have to depend on busking for a living.
Europe was in a recession back in 1986, although I don't remember anyone calling it that. I had finished a two year course in Finished Art at the Amsterdamse Grafische School and decided to enroll for another course to turn me into a proper designer. I didn't get very far. Having spent the summer doing freelance work, a return to the school benches felt like a step backwards.
There were other factors that contributed to my sudden decision to pack up and go — although I suppose a 23 year old does not need much of an excuse to develop itchy feet. My friend and oboe teacher Joost Flach had set an example of how you can take control of your life, when jobs for oboists were at a premium after he graduated from the Amsterdam Conservatory. In 1984 he took a job with the Singapore Symphony Orchestra and has been living in South East Asia ever since. It was Joost's radical move that planted the idea in my head that you can always try your luck abroad.
I had been on holidays in Ireland just once before, in the summer of 1984. While the rest of the world was watching Live Aid, I took uilleann pipes lessons at the Willie Clancy Summer School in Miltown Malbay, co. Clare. After a week I was joined by my friends Bill and Jochum and together we hiked across the Burren and Connemara.
Plans to return to Ireland for another holiday were thwarted through lack of funds. The closest I got to anything Irish were frequent music sessions in The String, just off Dam Square. And then I suffered a broken heart (but that's another story) and one night I announced to my brother's understandable bewilderment that I'd had enough and was going to move to Dublin. My brother and I shared an apartment with two other guys at the time. Their joined efforts at making me rethink such a drastic decision did little to divert me from the road ahead.
I have been asked that question many, many times: why Dublin? The connection with Irish music was one reason, the fact that they speak English another. I had wanted to go back anyway, so why not try and live and work there for a few months?
As it turns out, there was in fact a good reason not to move to Ireland: the Irish themselves were leaving en masse. "Will the last one to leave please turn off the light" is said to have been painted on the outside of my namesake in Dun Laoghaire, at a time when more than 40,000 people a year were leaving Ireland for good. Jobs in 1980s Ireland were a rare commodity, but I was determined to find one.
Armed with photocopies of the advertising and printing sections from Dublin's Golden Pages, kindly sent to me by the Irish embassy in The Hague, I set out to write 200 cold call applications. Only 17 companies bothered to respond with the familiar "we'll keep your CV on file" — and then there was the single phone call that changed my life.
Irish International was one of the bigger advertising agencies that were dotted around Dublin's Fitzwilliam Square area. They happened to be on the lookout for a competent finished artist when my letter arrived. As it turns out, formal training in finished art did not exist in Ireland, and the job was usually given to design graduates with higher aspirations.
I was asked to come over for an interview, and on the 10th September I was in Dublin for the second time in my life, scanning the impressive Georgian doors I had photographed two years previous. When the formalities were over and done with, I was told that I got the job and brought to Sachs Hotel for a liquid lunch, in good old Dublin advertising tradition. All I had to do now, was go home to pack for a one-way trip.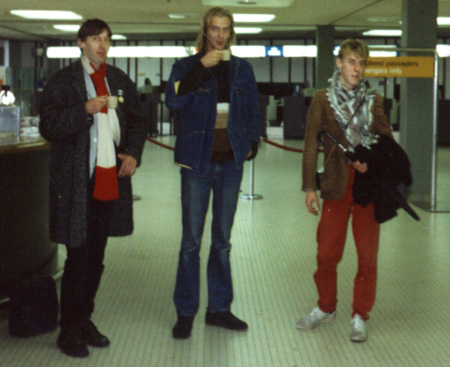 Two days after my 23rd birthday, friends and family flocked to Schiphol Airport to bid me farewell in a bizarre reversal of Irish fortune. As always, my wonderful mother fully supported my decision, my brother reckoned that moving from one big city to another is probably less traumatic than moving between rural and urban habitats, and my sister would be the first to visit me in my newfound home.
Joost and I now share the common bond of being expats. What did not strike me as relevant at the time, is that we both hail from Friesland — and like the Irish, the Friesians have a tendency towards emigration; much more so than people from other parts of the Netherlands. America and Canada were popular destinations with tens of thousands of my fellow tribesmen and -women over the years, and the parallel with the Irish diaspora is remarkable.
In keeping with this Friesian characteristic, my mother's family has seen its fair share of emigration, my uncle Meinte moving to the States in the early 50s. The other two uncles passed the buck to my generation, with cousins from both families settling in America and Spain respectively. And so it appears that the urge for going is part of my genetic makeup.
By moving to Ireland from Holland in pursuit of a career in advertising, I unwittingly became part of yet another tradition. Nick van Vliet, Gerry Huisman and Willie van Velzen are just some of the names associated with a wave of Dutch graphic artists who invaded Ireland in the latter part of the 20th century to exploit a gap in the market. Having a Dutchman on the studio's payroll appears to have become the holy grail for Irish ad agencies in those days. This might be the reason why MD Finbar Costello invited me to join him and his team at a client briefing in my first week in the job — his agency could now boast two Dutch graphic artists, since Willie van Velzen Jr. had joined their ranks earlier.
On holidays in the sun a year or two ago, my sister-in-law was discussing the merits of moving to Spain to live and work there. In all innocence she asked me if I would ever consider such a move. The truth is, I wouldn't mind spending some time travelling the world, but I would never wish to move away from home permanently.
Been there, done that.