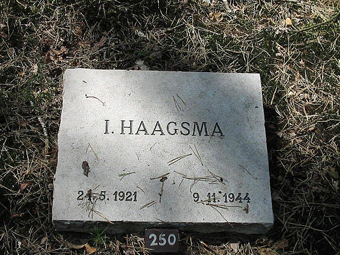 Today is Liberation Day in the Netherlands, when the Dutch celebrate the end of the occupation by Nazi Germany, 66 years ago. At the time, my mother was living and working in Waagenberg, in the southern part of the country, which had already been liberated by Polish troops in early November 1944. While she lived among the ruins of the orphanage which had been destroyed during the fighting and bombing raids, she was unable to make contact with her family, who lived just 50km away in Rotterdam – still in occupied territory.
After six months of being cut off from each other, my grandfather finally managed to get a letter across to my mother. A translated extract follows here. Note that my uncle Ids mentioned in this letter was executed by the Germans the day after his arrest.
---
Rotterdam, 10th May 1945

Dear Rins,

Just now mr. Numan told us that someone is going to Breda tomorrow and there may be an opportunity to get a letter over to Braband. Therefore we hurry to briefly tell you a few things in the hope and expectation that you will soon be in our midst. Presently a few things in telegram style.

8th Nov. Ids and I were picked up by the S.D. Ids was detained for possession of Trouw en Vrije Pers. I was allowed to go home. Since that day we have heard nothing whatsoever from Ids. We have absolutely no idea where he is.

10th November Jacob was taken away with the raid. Went to Osnabrück. 16th Feb saw him safely back home. They are doing really well, Annelien too.

10th Nov. Douwe managed to go into hiding. No work this winter, at the moment he is with de Waard, Groene Hilledijk, and now gets 10 Kg potatoes per week. 3rd/5th January I brought Meinte on a bicycle without tyres to Friesland. He is doing really well there at uncle Bouke's. Last news from him was 4th April. Uncle Bouke has pleurisy, so does Piet Busink, he's in the Zuiderziekenhuis. Jitske's Sake from Weidum has passed away. Tine – Jantje have lost their little one after only a few days. Uncle Ate had an accident while cutting trees en aunt Treintje is expecting. We think later this month. Uncle Jan and Jacob were in hiding with uncle Inne and made clogs there.

In spite of the hunger we are doing well here. We are still healthy, but very weak the same as everyone. Today we received our first margarine from the aeroplanes. Mother had not had coffee with milk since November. Because I had been to Friesland and Beekbergen I had gotten milk and some fat.

This week the food supplies were critical. There is absolutely nothing left. Our canned reserves had been finished for 14 days. Still we continued to get help in wondrous ways. On Mother's birthday Mrs. van de Feijst gave her 100 gr oil, 2 kg barley flakes, Mrs. Amoureus gave her 1 tin of milk, Mrs Kuipers half a loaf of bread. I managed to get 1.5 litres of milk from Mrs Verschoor across the road, so that we managed to have a nice cup of coffee substitute last Sunday.

Mrs de Leeuw gave Mother 1 pound of flour. Because Douwe was working at the greengrocer's we managed to get something now and then. Also from his friends, who are with the merchant navy. They slept here this week. We didn't have any bread, but that day they brought some kidney beans.

When you get home, we would love you to bring something home with you. It doesn't really matter what. We lack everything, or rather we have nothing left. Douwe got 2 Kg. barley and last night Jacob brought home 1 kg oatmeal. That's somewhat bitter, but when we mix it we can bake a good sized pancake with it.

But don't overload yourself just because we have nothing. It might be best if you manage to pick up some food stuffs, to leave some behind in Wagenberg if you have to, because it's quite a journey by bicycle. Soap, washing powder is something that especially Mother is looking forward to.

Henny Kuipers is still based in the Hague. But Monday she came home and now today she wasn't allowed to return to the Hague. She'll have to stay here for the moment.
Old Mr. Founon has died. A large number of people are suffering from hunger edema. There also appears to be an outbreak of typhus here, which is why the Zuiderziekenhuis is no longer taking in any patients.

There's been a party since last Friday night. Sunday night during the thanksgiving services (2 at six thirty and eight) there was heavy fighting, between the underground en German marines and infantry against the Dutch S.S. Monday there was a party on the Dreef. This has been beautifully decorated. There was lots of singing. Mr de Greef's piano had been placed at Aurora.

Even now it is busy everywhere. Monday and Tuesday the girls who were going out with Germans had their heads shaved. At the moment members of the NSB are rounded up and detained and are getting a treatment just like the Germans used to do. Van de Kraan from the Restaurant was ordered to eat sugar beet in public, from a nicely garnished dish served with grass.

At last we are now getting milk, margarine and biscuits and thus our nutrition is much improved, so that we are gaining strength.

Now that we are free again, a weight has been lifted from us. This year I once again have an allotment at de Enk. The civil servants give us vegetables once a week. Douwe is still with de Waard (Groene Hilledijk) and has 10Kg potatoes extra per week and perhaps this week he'll go to van de Vorm, so he is also supplementing our food supplies.

You therefore do not need to worry about us and our immediate future. On Ids' birthday we would love to be able to at least report that he is doing well, and for all of us to celebrate our 30th wedding anniversary together here on June 26th next. Of course we don't know if you are going to stay there, but if that were the case, we count on you being able to come home on that date if God provides the opportunity. Mother put the clothes together. I picked out something to read. I would have liked to include a good book for you, but there is almost nothing available in the shops. On my birthday all the books I got were second hand, which were much to my liking even if they didn't look the best.
[My Grandmother takes over and finishes the letter]
Well Rinske, we have written you about a few things, take good care of yourself, en we hope to meet each other soon and in good health. Should we hear from our Ids, then we hope to let you know as soon as possible. The very best regards from Father, Mother and Douwe and may God give that you get well soon!