When I moved to Dublin in 1986, I had managed to quickly arrange a place to stay with the help of Lorraine, the receptionist with my new employer Irish International. I was soon to become the nightmare of my friends' address books.
Merrion Road, Ballsbridge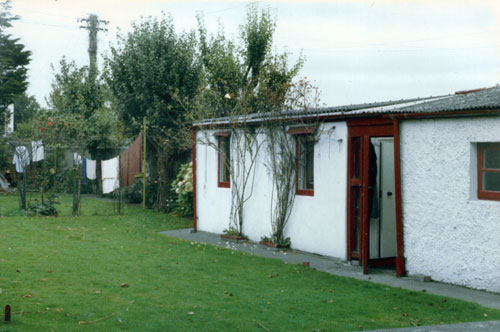 The address of Merrion Road in Ballsbridge, across the road from the Royal Dublin Society and the heavily fortified British embassy, invokes visions of luxury and grandeur. The reality was somewhat different, however.
The redbricked residence was very impressive indeed. Upon my arrival, I was ushered through the front door and straight out the back where the garden shed was assigned as my first home in the Irish capital. It did have a toilet and a shower, I have to say that for it. I suppose I couldn't expect much more for £15 a week — I spent the grand total of £30 living in the embassy belt.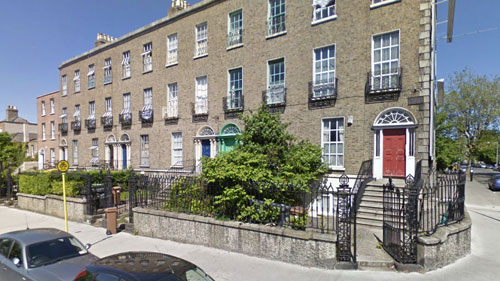 Upper Rathmines Road
I quickly discovered that Ranelagh and Rathmines were known as "flat land", and like so many others I roamed the streets of Dublin 6 armed with the Evening Press and enough small change to make the necessary calls from the nearest phone box.
And so I found my first proper Dublin flat in the basement of a four-story redbrick on the Upper Rathmines Road. It had a separate twin bedroom and bathroom, a kitchenette and my own front door. It served me well for several months as I got to know the city and made new friends.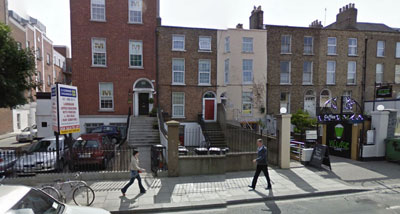 Lower Rathmines Road
I had become friends with a bunch of engineering students from UCD, at a time when their department was located on Merrion Street, in what is now Government Buildings and the Taoiseach's Office. When they graduated and looked for jobs, flat hunting also became part of their new life — and I joined them in their quest.
Paddy Ryan, Dave Slater and myself moved into a three bedroomed flat on the Lower Rathmines Road in the spring of 1987. There was lots of drink involved.
Mackies Place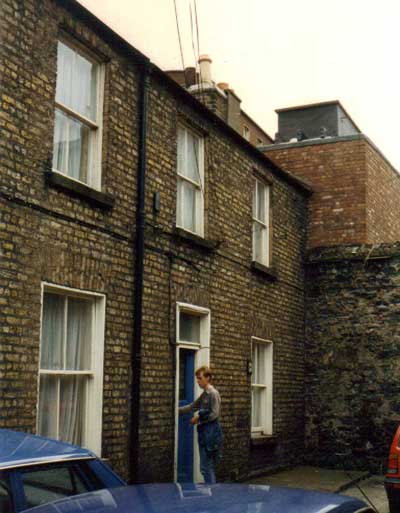 Brian Murray, yet another engineering graduate, wished to join our ranks and so a larger flat was needed. We found a small artisan house tucked away in a tiny laneway near Fitzwilliam Square, called Mackies Place — and so the four of us became known as Mackies Boys.
My new location allowed me to travel between work on the Square, home and my local pub (Toner's of Baggot Street), all without even having to cross a street.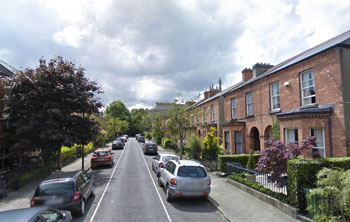 Edenvale Road, Ranelagh
After a silly falling out with my flatmates, I moved to a crappy bedsit in Ranelagh — around the time that my new job with Bell Advertising brought me to the same part of town. The music of Christopher Cross will forever remind me of that place, since my upstairs neighbour felt the need to play it at full volume — every evening when he came in from work.
My colleague and friend Tim Mudie lived in an equally crappy flat on Moyne Road — we used to visit each other to share our meagre supply of drink and tobacco, taking the shortcut across the disused railway tracks between our streets, where the Luas now runs.
At this stage, the traditional music scene had introduced me to fiddle player Brian McCarthy who became a very good friend. He was determined to get me out of my cramped living quarters — and that required a move south, to Dun Laoghaire.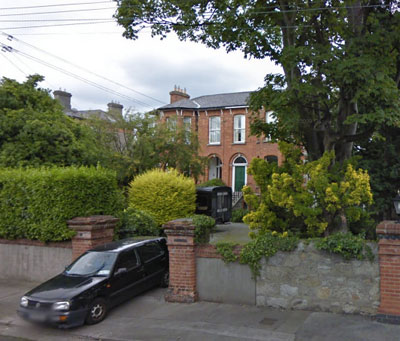 Silchester Road, Glenageary
Brian's parents owned two massive redbrick homes in Glenageary — one was the family home and the other was rented out in flats. I was very lucky to be offered the Rear Garden Flat at Ashdoonan, Silchester Road, Glenageary, Co. Dublin. Back in Holland, my friend René was fascinated by an address that didn't contain a single number.
My new flat was enormous, with two bedrooms and a big open-plan kitchen cum living room, and access to the huge garden which stretched some 200 feet. Both houses, as well as my own flat, were a paradise for artists, musicians, creatives and other lunatics.
Unfortunately the McCarthy's decided to sell one of their houses and after two years of luxury my time was up.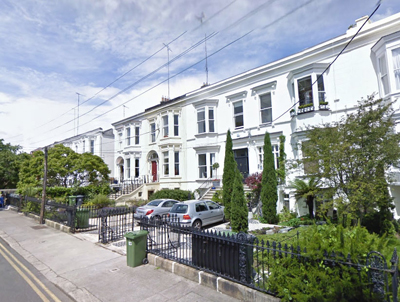 Crosthwaite Park, Dun Laoghaire
Ross Cahill-O'Brien, a friend of Brian's, is an architect who had recently returned from the UK after winning a cash prize in a competition. He put this money towards the purchase of a majestic 19th century home at Crosthwaite Park South, just down the road.
Ross was delighted to share his new home with me, his fashion designer cousin and a mad artist whose name escapes me. Eternally covered in plaster dust and paint splatters, Ross's mission was to turn his house into an architectural Wonder of the World, and I must say that he came close.
Living in an eternal building site was far from ideal, however, and once again Brian came to the rescue.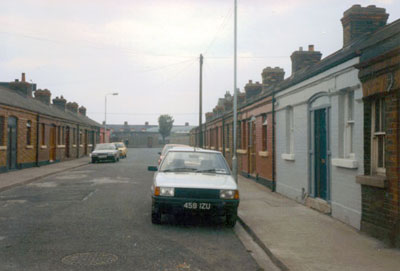 Pembroke Cottages, Ringsend
Brian's brother Francis had bought a small terraced cottage in Ringsend, and was looking for a tenant after spending a mint refurbishing the place. Although the rent was steep, I immediately fell in love with the place and moved in before the paint had dried.
With a bedroom to spare, I was able to provide initial accommodation to Maarten and Gabrielle when they, too, came over from Holland to work and study in Dublin.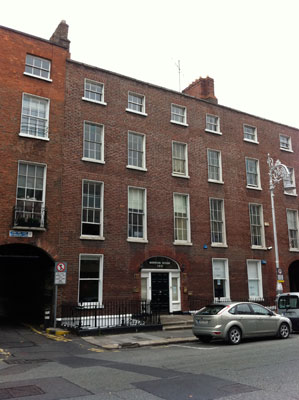 Fitzwilliam Street, Dublin 2
When the rent in Ringsend proved too much of a strain on the budget, I teamed up with Brian "Smiley" Norton, taking over the top floor flat in Merrion House on Fitzwilliam Street, recently vacated by my friends Deirdre, Jean and Shirley.
Merrion House appears to be a strange amalgamation of two or three Georgian buildings into one block, divided into flats. Fitzwilliam Street's claim to fame was that of being the longest Georgian street in the British Isles — until the ESB knocked down an entire section and build their monstrosity headquarters across the road from our flat.
Colourful characters occupied Merrion House; not least the caretakers Rose and Vincent who could usually be found in Larry Murphys on the corner of Baggot Street. Private detective Liam Brady had set up shop in the building too — I believe he's still in business, albeit in a different location.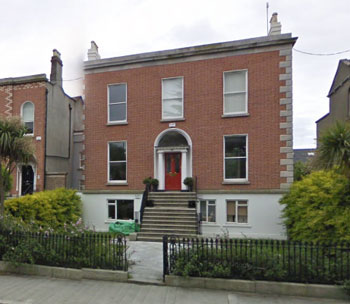 Kenilworth Square, Rathgar
After I got married, my wife and I moved into the last flat of my career, based in a large detached period house on Kenilworth Square in Rathgar. Small but sufficient, it served us mainly as a base during our house-hunting days.
If I thought my Christopher Cross neighbour in Ranelagh was annoying, I hadn't heard anything yet. Our downstairs neighbour in Kenilworth made the windows rattle and rooftiles bounce with noise that had little to do with music and went on till all hours of the morning. The guards advised us to put a brick through his window, since there was little they could do if he started again after they left. Thankfully our landlord kicked him out fairly quicksmart, which was probably a better solution.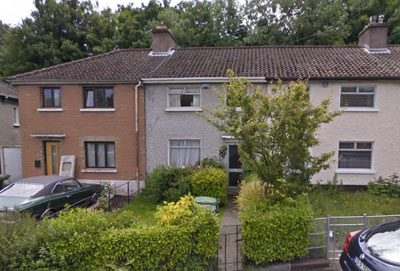 Orwell Gardens
To blend in more with my adopted society, I joined in with the Irish obsession of owning your own home. We purchased 37 Orwell Gardens in 1995, a small, terraced house nestled in a cute former council development on the banks of the river Dodder.
We were lucky we didn't drown when we lived there. In 1986, Hurricane Charlie had caused the Dodder to explode and most of Orwell Gardens was immersed in a foot of floodwaters. During another storm that raged just a few months after we had moved out, I watched from the balcony of The Dropping Well as the Dodder overflowed into the carpark and started carrying empty beer kegs downstream. Orwell Gardens, sandbagged this time, was safe from the floods — but I still felt more comfortable having moved uphill.
The start of the property boom had already seen house prices increasing rapidly, and when we decided to trade up in 1999, we got twice of what we originally paid for our wee home. That trend continued, but even after the crash, the current average price appears to be 3 times as much as what we forked out — I'd hate to think what they were worth at the height of the boom.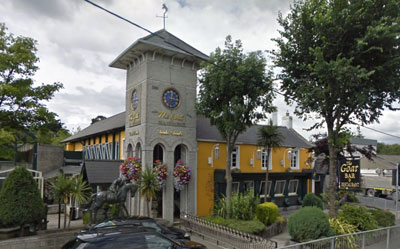 Baile na nGabhar
So that brings us to the end of my quest. I have finally settled in a three bedroom semi-de, not far from the homes of my very first Irish friends. My own kids are growing up here now, and I hope that to them it will be their Groenezoom.

View Dublin Addresses in a larger map